IVF clinics, as well as the CDC, use the term IVF success rate to talk about how successful treatment is. But the term actually refers to a number of things. IVF success rates track each outcome of IVF, from implantation to live birth.
People look at IVF success rate when they want to know how likely it will be to have a baby. IVF success rates vary in very big ways, especially when it comes to age. For this reason, consider all of the factors when it comes to IVF success, not just age. Consider the type of IVF, the clinic, and the diagnosis, too.
Take the time to learn about IVF success rate, which rates matter most, and how to use the rates. On the other hand, avoid relying too much on these rates. Why? Because IVF success rates are statistics; they apply to large groups of people, but not individuals.
This article covers IVF success rates in detail as a guide to understanding IVF treatment and outcomes.
Various Types of IVF Success Rates
Every year, clinics send their success rates to the CDC for reporting. Please note that not all clinics do this, but they should. When clinics report the results from their IVF treatments, people can get a better idea of how well IVF will work for them. For this reason, the CDC requests IVF treatment centers to provide the results. Then, the CDC creates a report from all of the data, and makes the report public on their website.
While certain clinics may come up with their own types of success rates, the CDC publishes these seven rates:
Transfer Rate
Transfers Per Retrieval rate
Implantation Rate
Pregnancy Rate
Healthy Singleton Live Birth Rate
Singleton Live Birth Rate
Twins Live Birth Rate
Additionally, the CDC and clinics differentiate between rates using frozen eggs or embryos and fresh ones. They also create different rates for donor eggs or embryos and non-donor eggs and embryos. As a result, IVF success rates vary according to the fertility situation.
In order to come up with these rates, clinics track additional numbers, including cycles and retrievals. Most of these success rates are based on number of transfers.
What is a transfer? When a fertility specialist places an embryo inside the uterus, a transfer takes place. Clinics call this procedure embryo transfer. All things considered, specialists consider the embryo transfer procedure most important. If a transfer fails, IVF cannot be successful.
In other words, in order to have successful IVF, the specialist must complete a successful transfer. That is why transfers make up the basis for most of the success rates.
IVF Success Rate Definitions
IVF Success Rate and General Definition
Transfer Rate
The number of transfers per 100 cycles.
Transfers Per Retrieval rate
The estimated number of transfers per retrieval, on average.
Implantation Rate
The implantation rate per 100 cycles.
Pregnancy Rate
The number of pregnancies per 100 transfers.
Healthy Singleton Live Birth Rate
The number of full-term healthy single babies born per 100 transfers.
Singleton Live Birth Rate
The number of single babies born per 100 transfers.
Twins Live Birth Rate
The number of twin live births per 100 transfers.
Keep in mind that an embryo transfer is the most critical part of the IVF process. Without a successful transfer, implantation cannot happen.
Transfers, Implantation, and Pregnancy Rate
Transfers per retrieval takes the transfer rate a step further. This rate can help shed light on a clinic's success with fertilization. For instance, a retrieval could in 12 viable eggs, but none may successfully fertilize in order to be ready for transfer. Unfortunately, that situation dramatically impacts transfers per retrieval rate. On the other hand, this rate is impacted by other decisions, including the decision to freeze the eggs for transfer later.
Implantation rate shows how many embryos successfully implant. Like transfer rate, the implantation rate plays a big role in a clinic's image. The problem, however, is that a high implantation rate doesn't mean the clinic is largely successful. After all, women going through IVF want to conceive and birth a healthy baby. Implantation rate can actually be high and yet live births can be low.
Pregnancy rate shows the number of pregnancies per transfer. Like implantation rate, pregnancy rate doesn't indicate success all by itself. In fact, many women unknowingly mistake pregnancy rate for live birth rate. As a result, they end up with unrealistic impressions or expectations. Make sure any clinic that is reporting success rates is very explicit. Pregnancy rate and live birth rate differ in a major way.
Understanding Live Birth Rates
The CDC defines three basic live birth rates: healthy singletons, singletons, and twins. Of course, women give birth to multiple babies including triplets and more. However, these three IVF success rates are the most commonly used.
Healthy singleton live birth means the baby was born alive, full-term, and considered normal weight. Since many babies are not born full-term and some are underweight, the CDC and many fertility clinics report those births separately as singleton live births. Any and all live twin births after IVF make up the twin live birth rate.
By and large, clinics and patients consider live birth rate the single most important IVF success rate. Ultimately, women use IVF to have a baby. Therefore, that is the most important outcome. At the end of the day, women and couples want to know one thing: will IVF improve their chances of having a healthy baby?
Live birth rates vary by clinic, but more importantly, they vary by age and diagnosis.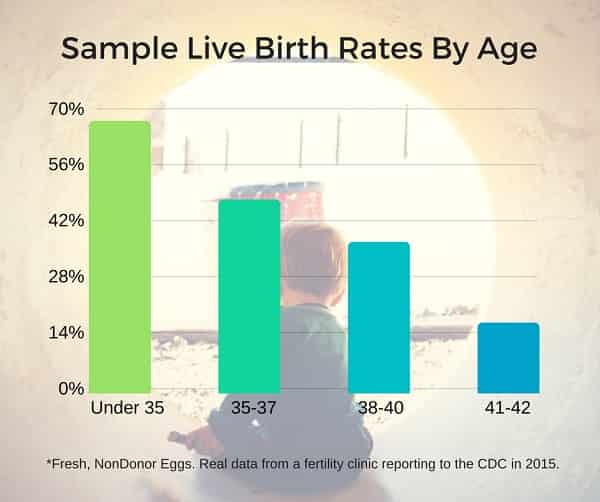 As shown, the younger the woman undergoing IVF, the higher the live birth rates. The reverse is also true. When fresh, non-donor eggs are used, IVF success rates are higher with younger women.
For this reason, clinics may show additional data or provide varied live birth rates for women of all ages. However, modifying or manipulating an IVF success rate is a bad practice. Clinics and fertility specialists should always provide realistic, raw IVF numbers to women and couples. That way, people can make informed decisions and take risks they are comfortable taking.
Read More: Best IVF Clinics in USA By Live Birth Rate,Specialty and Reviews
Live births vs stillbirths
Live birth as a term isn't specific to fertility. All births recorded and tracked are either live, or not (stillbirth). Please note, though, that IVF itself does not increase the likelihood or decrease the likelihood of a live birth vs a stillbirth. Other fertility factors or complications may make stillbirth a stronger possibility, IVF as a treatment doesn't factor into this.
Live birth vs cancellations and miscarriages
Consider the fact that live birth is based on transfers, not pregnancies. Additionally, cancellations don't factor into live births. So, if eggs are retrieved, fertilized, but a specialist does not transfer them, that data doesn't count. Therefore, cancellations are completely excluded from the live birth rate.
Miscarriage or failed implantation, however, does factor into the live birth rate. If a transfer is successful, but does not result in pregnancy and therefore doesn't result in a live birth, the live birth rate is impacted. In addition, a miscarriage will impact live birth rate.
For this reason and also for other reasons, many fertility specialists are upfront about the likelihood of failed implantation or miscarriage. If a clinic has a strong reason to believe IVF will not result in pregnancy or conception, they will probably suggest other treatment or options. IVF's main job is to assist a woman with conception. If other fertility issues would impact her ability to carry a baby to term, the fertility specialist will be clear about that.
IVF Success Rate Fractions
When a clinic has done fewer than 20 transfers, they use a fraction instead of a percentage. For example, say 17 transfers of frozen embryos from non-donor eggs were completed in age group 41-42. From these, one (1) resulted in a live birth. The live birth rate for this category would show 1/17.
According to experts, the CDC requires fractions instead of percentages in these cases.
The reason is that percentages may provide a very unrealistic expectation. The CDC and clinics cannot determine realistic IVF success rates with fewer than twenty transfers.
Fraction examples:
(Fresh Nondonor Eggs) Pregnancy Rate >44: 2 / 12
In this scenario, two pregnancies occurred from a total of 12 transfers. The percentage for this is 17%, but quite frankly, that is a very unrealistic number. 2 in 12 gives a better picture of the actual IVF success rate in this case.
(Frozen Nondonor Eggs) Live birth Rate 43-44: 3 / 19
Again, 3 of 19 shows the real, actual number of live births in this age group. Per the CDC, the clinic cannot say the live birth rate for frozen non-donor eggs with women aged 43 to 44 was 16%. Until twenty transfers happen, clinics should show fractions instead of percentages.
How IVF Success Rates Are Determined and Discussed
Clinics calculate specific IVF success rates by taking the total number of a certain event and dividing it by a base number. Specialists get the most commonly used IVF success rate – live birth rate – by dividing total number of live births by total number of transfers.
Reports and website should always tie an IVF success rate to a period of time. For example, a clinic's 2016 live birth rate should be specified, rather than a general number. If the clinic wants to, it can specify that the live birth rate they are providing is all time/lifetime. However, people considering that particular clinic won't have good information if the clinic doesn't provide it.
Several clinics publicly display their IVF success rates on their websites. Clinics post this information upfront and online because that is how many people research clinics before visiting.
Every woman and couple's fertility circumstances are different. For this reason, the odds of success may be higher or lower than the success rates posted. A good fertility doctor will explain the success rates, but at the same time, provide clarity and insight into a woman's personal fertility issues.
New Clinics or Specialists – How to Get Their IVF Success Rates
Most clinics provide yearly data. The CDC collects and publishes data from two years prior. Because of this, new clinics with great results won't show up in the ART reports. Women and couples should directly ask the fertility specialist for their success rates. Ideally, the specialist will provide it in written format – online or in a print-out. Don't accept verbal communication, because you need to compare it.
Any clinic – new or not – should be ready to talk about success rates since it is one of the major reasons people choose a clinic. If a clinic or doctor doesn't or can't provide this data, consider going somewhere else for treatment. If the reason is due to newness, then the specialist should be able to explain, in detail, how their treatment works. At the very least, he or she should explain the odds of success based on age, diagnosis, and other factors.
What To Expect from IVF Clinics
Clinics have very good reason to openly discuss their success rates: they want to attract potential patients! A very good clinic is open about almost everything, from how consultations will work, to what happens after IVF is completed.
Fertility clinics that provide quality treatment and care will do the following:
Share success rates openly. Whether posted online or provided in a document, a high quality fertility clinic openly shares success rates. When a clinic is new, it should provide explanation. That explanation should include a detailed overview of the treatment and expected outcomes.
Discuss individual circumstances. Success rates don't tell the whole story. Therefore, experienced and well-qualified fertility specialists discuss individual circumstances and personal odds of success. This is the ethical thing to do. Women seeking fertility treatment should always remember that no two fertility situations are exactly the same.
Provide time to consider and compare. Some specialists may apply appropriate amounts of pressure on couples and women to make fertility decisions. Usually, pressure is applied when timing is critical. However, choosing IVF or any other assisted fertility treatment requires time, patience, and research. Emotions play a big role in this process.
Provide options. Regardless of a clinic or specialist's IVF success rate, they should provide options. IVF treatment is just one type of fertility treatment; there are several others. For some, IVF represents a last resort to getting pregnant, due to the expense. Others opt for IVF right away. Quality fertility clinics offer options, even if they only focus on IVF.
Screen people well (and possibly screen out). Clinics will always schedule a consultation first. No clinic will allow a patient to self-schedule IVF treatment. A fertility specialist will determine whether or not IVF is the best path. Unfortunately, some people seeking IVF treatment may be turned away. If the likelihood of IVF treatment working is too low, most fertility specialists will not move forward with it. Because of this, carefully consider clinics with very high success rates. They may be high because they only work with people who already have good chances of success.
Read More: Find top IVF clinics in USA by Success Rate on Our Clinics Directory
Other Factors to Consider
IVF success rate is NOT the only factor to consider when it comes to selecting a clinic or specialist. It's also not the only thing to consider when choosing a treatment path. Before making a decision, consider the following.
Number of Rounds/Cycles
Always consider the number of cycles that go into the IVF success rate. Here's why: it can take several rounds of IVF to achieve an acceptable success rate. Some women and couples cannot afford to do IVF as often as it is necessary to become pregnant.
Be prepared to ask about number of cycles. Quality clinics will always include this data when discussing success rates and what to expect.
Cost of IVF Treatment
IVF treatment expenses can be quite high. For some couples, the treatment is actually cost prohibitive. Loans, gifts, and installment options may cover the cost of treatment. However, it must be coupled with the overall likelihood of success. All too often, couples are saddled with incredible amounts of debt after failed IVF. If possible, consider BOTH the cost of IVF treatment and the success rate before making any decisions.
Along with this, keep in mind how paying for IVF treatment will impact your family's financial situation. While cost tends to take a backseat to the possibility of getting pregnant, it's important that it not be an afterthought.
Read More: IVF Cost – How Much Does It Typically Cost?
Procedures, Tests, and Medications
Get in-depth information about the medications used and how each procedure works. Medications can take a huge toll on the body. Sometimes, women express that they did not realize how medications would negatively impact them.
What will the IVF treatment require? Consider the time off that will be needed, money for travel costs, and that many injectable medications are going to be done at home.
Read More: IVF Procedures Video – How Does It Work?
Your Own Prognosis & Odds of Success
In some cases, success rates are lower for the general pool of women than they are for individuals. Talk to your fertility specialist about your own prognosis. Fertility specialists know that some people have a greater chance of success than others. You can use our IVF success calculator to predict success rate. So don't walk away from a clinic on IVF success rates alone. A high quality clinic and excellent treatment plan can make a massive difference in success.
Additionally, online forums and support groups may provide information to increase the likelihood of success. Women who have been through IVF before can lend insight and tips to help, and they often do. Several bloggers post tips. Always take them with a grain of salt, but don't discard them completely.
A fertility doctor will also likely provide some guidance on increasing success during all phases of IVF treatment. Ultimately, IVF success rate alone cannot be the sole determining factor.
Downloading the Latest CDC IVF Success Rates
The CDC report containing over 440 fertility clinic success rates is always public. Anyone with access to the Internet can visit the site, look up a clinic by name or location, and review information.
In addition to success rates, the report includes details about IVF treatment patient profiles. Single women, surrogates, and plenty of information about donor eggs and frozen embryos is included. The report also shows information related to number of cycles.
The report is large and in Excel format and somewhat difficult to interpret. However, people can use the search function on the website to get specific information about clinics, instead. Unfortunately, the lookup tool is delayed a year longer than the raw spreadsheet data. Currently, the data in the lookup tool is 3 years old.
On the flip side, even though the data is older, the details are easy to understand.
Sample data from CDC ART Fertility Clinic Report
In the sample data above, in 295 total cycles, the clinic was responsible for 104 pregnancies and 111 total infants born (due to multiple-birth infants). Another way to look at it: 80 delivers of 104 pregnancies. To many people, these numbers would represent a very high, positive success rate. What's unknown is how much screening is done prior to beginning IVF treatment. A quality clinic may screen out patients will very low chance of success.
Conclusion
IVF success rates are incredibly useful. Women and couples seeking fertility treatment use them to help make important choices. The CDC uses them to give us a better picture of how well IVF treatment works. And clinics use this data to showcase what they can do. At the same time, IVF success rate is but one piece of information. Therefore, people should always consider several other things to determine their chances of success or the quality of a clinic.
Our IVF success rate reports